Trinity College and Theological Seminary Online
Call 812.602.3320 to speak to an Admissions Counselor
Find out in one minute how Trinity can provide you with an affordable, quality education. Trinity Bible College and Seminary is an online institution of higher education specializing in teaching working pastors, lay people and church members. We provide flexible, focused, practical education that helps our students grow deeper in God's Word and their ministry to others.
Why Trinity Christian College and Seminary Online:
Trinity College of the Bible and Theological Seminary Online: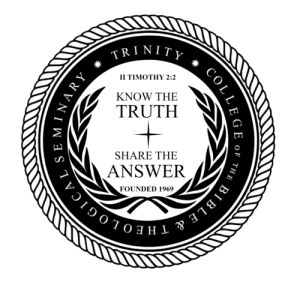 Trinity College of the Bible and Theological Seminary is an online bible college and seminary, providing various degrees in our four Schools:
Biblical and Christian Counseling
,
Biblical Studies,
Pastoral Ministry
, and
Philosophy and Apologetics.
We are a completely 100% online Bible college, and our students can complete their
programs
from anywhere in the world they have an internet connection. Students can work at their own pace, and we have open enrollment all year long. Trinity students are Christians from all over the world who have the fortitude and dedication to earn their degree and sharpen their ministry, while still remaining where God has called them to be in the world.
Trinity makes learning accessible by offering students an exciting and innovative study method in our On Demand Webinars to complete their degree requirements.
With Trinity, Christian College and Seminary is Affordable
Many Christian colleges and seminaries are too expensive for the average person. But with Trinity, Christian college and seminary is affordable. Call an
academic advisor
at
812.602.3320
to learn more, or fill out an
academic evaluation online
and our advisors will be in touch. We hope you will find Trinity College of the Bible and Theological Seminary to be the right choice for you. Our flexible and expansive programs help those in ministry, or those just wanting to learn more of God's word, to go deeper into the Academic City of God while continuing to work and minister in the world.